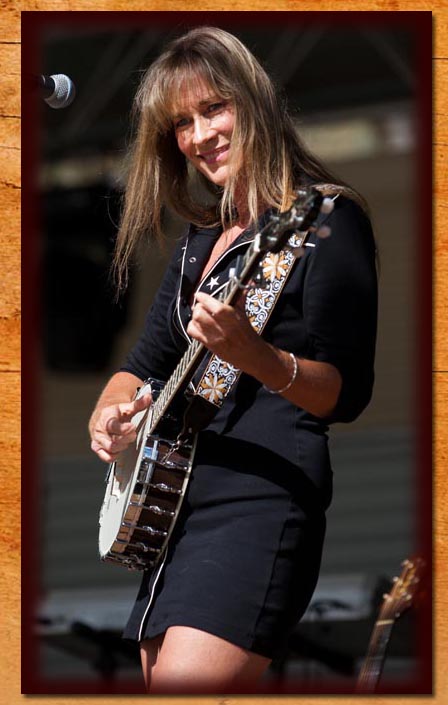 Jane Germain's 's musical journey has taken her from her hometown, Sydney, to Western Australia and all the way back to her Chinese heritage (her Manchurian great-grandmother married a Scottish missionary). She's played all the styles from folk to funk that express her emotions and musicality in a career that's won four consecutive WA Country Music Awards, Country Arts funded headline tours of regional WA, a residency in Beijing awarded by the Australia–China Council and an invitation for her to represent Australia at the 2010 World Expo in China. The journey has only just begun – Jane recently moved to Tasmania where she is pursuing local and statewide exposure to her talent. Given her success in WA and China, Jane has an excellent opportunity to develop new audiences, and explore fresh songwriting themes on the East Coast of Australia.

The acclaimed debut, The Honeymoons Over (with the Dreamers) - working with the production team of James Hewgill and Jim Fisher (who also played most instruments), introduced listeners to radio tracks such as Living on the Edge, and Somebody Tell Me. The songs she wrote and sang were about feelings old and new - and the music was inventively rhythmic as it was melodic

Jane continued to take her music in new directions without losing the influences that are so much a part of her identity.
Her compositions for Chinese Whispers emphasized free, brushstroke-like improvisations, inspired by her recent experiences with other cultures and musicians and her life in China.
With this constant yearning to take her music beyond convention, Jane has collaborated with many internationally renown musicians - including the Mongolian traditional folk musicians Hanggai on the track Model Young Man and Beijing er-hu (2 stringed Chinese
violin) player Yang Tian Chuan on the title track Chinese Whispers and When You Come Around Here. Also featured on the album is longtime member's of Jane's Perth band – Ian Simpson & Adam Gare (Paul Kelly), John Reed (Kavisha), Dave Brewer (Lucky Oceans) and Ben Franz (The Waifs).
In 2010, Jane, and Ian Simpson released their album, Lonesome Road. The album featured acoustic arrangements of
original material and songs from various artists such as Delmore Brother's Freight Train Boogie and Blues Stay Away From Me,
blues classics including Tommy Johnson's Big Road Blues, and some bluegrass songs and instrumentals. They released their 2nd duo album No Fun Allowed to rave reviews – featuring songs they created together in their own style - ranging from raging bluegrass, hard driving blues, to swing and down-home country. Jane also made a debut appearance playing clawhammer banjo on three tracks.

Jane's musical career has been on hold over the past year due to her battle with breast cancer, but she is now raring to go! Audiences and performers value live music – there is a flow on effect to people's health & wellbeing from engaging with live music as Jane has found herself – after her struggle with breast cancer last year, she hopes that her music sends a message of hope and courage to other breast cancer survivors.

Since moving to Tasmania for her health she has found herself collaborating with the island's favourite musician, Pete Cornelius. And with Pete's remarkable talent and level of experience, which include festival appearances in America and the UK - to just about every festival in Australia – the future for the pair is exciting!

They headed off to Canberra for the prestigious National Folk Festival over the Easter weekend. A huge festival – this year was the 50th!
A new album for the duo is also planned for the new year.
Jane has just been awarded the Tasmanian Composers Festival - 2016 Song of the Year with her song, Listen to What You Know.
Performance Highlights
Festival Fremantle - 1996 (WA)
Bridgetown Blues – 1997 (WA)
Fremantle Rhythm & Blues Festival – 1999 (WA)
Kalgoorlie Rhythm and Blues Festival – 1994 (WA)
With Lucinda Williams (Texas, USA) Fly by Night Club -1994 (WA)
Toodyay Folk Festival – 1995 (WA)
Nannup Music Festival - 1994, 2004, 2012 (WA)
Bindoon Rock (1994) (WA)
Fremantle Arts Centre Courtyard Program 1993 – 2004 (WA)
Fairbridge Festival 2005, 2008, 2010, 2012, 2015 (WA)
National Folk Festival – 2007, 2016 (ACT)
China Tours – 2004, 2006, 2008
Midi Music Festival, Beijing (China) 2008
World Expo – 2010 – Shanghai (China)
Port Fairy Folk Festival – 2011 (VIC)
WA Country Music Festival and Awards (Boyup Brook)– 2009, 2010, 2011, 2012 (WA)
Songs from the Mountain Concert - 2004 & 2005 (WA)
Stars on the Bastian – 2013 (Kimberleys, WA)
Jane Germain & The Lazy Boys – Country Arts Tour of Regional WA - 2013
Bay of Fires Arts Festival – 2015, 2016(Tasmania)
Bicheno Food & Wine Festival – 2015 (Tasmania)
Tasmania Folk Awards – 2015
Beer Fest – Launceston 2016 (Tasmania)
Tasmanian Composers Festival 2016 (Tasmania)
Rock Pool Bicheno (Tasmania) 2016
Awards
Australia China Council Residency 2006
WA Vocal Duo or Group of the Year - 2009
WA Vocal Duo or Group of the Year - 2010
WA Vocal Duo or Group of the Year - 2011
WA Vocal Duo or Group of the Year - 2012
WAMI Song of the Year Finalist – Revenge is Sweet - 2007
WAMI Best Country Music Act nomination 2009, 2010
Tasmania Folk Federation Song of the Year – runner up – Living on the Edge - 2015
Tasmania Composer's Festival – 2016 Song of the Year – Listen to What You Know
Recordings
Beyond Worrying (with Will Taylor)
The Honeymoon's Over (with The Dreamers)
Surrender (with The Dreamers)
Free Spirit (solo)
Songs from the Mountain (various artists)
Chinese Whispers (solo)
Lonesome Road (with Ian Simpson)
Spirit of the Land - Tony McKenna – (FIFO, Goodbye Jane)
Ted Egan – Women of Steel, The West is Best
Kevin Bloody Wilson – Rhythms & Roots (Music Documentary)
No Fun Allowed (with Ian Simpson)